1. Last week we spent some time in north Louisiana and after church Sunday we took Joshua on an "adventure" to the Natchez Trace. This is just one of the many reasons I love my hometown, but the history here is just amazing. We hit up Emerald Mound and then stopped at the Elizabeth College on the way home. This college happens to be the first female college in the country! Joshua was not impressed with it, he's been potty training and instead of saying he needed to go he stood straight in front of us and peed like he'd been holding it in a year. Oh little boys!
2. Turns out this landlord doesn't cut your grass for you, this is a first in my 10 or so years of renting people. Since we got rid of everything after we left Monroe we had to go out and buy a weed eater. The worst part, it broke before Jeremy was done cutting the grass. So today, we are returning the piece of junk.
3. Teacher workshops are in full swing, lucky for me I got to the Science one this week and ran into another 4th grade teacher from my school who informed me that I am only teaching ELA. Praise the Lord! I was terrified about the idea of teaching Math.
4. Jeremy appeased me and we went to Orange Leaf, I actually wanted to go to a bubble tea place but they closed crazy early. I was super excited about the new lemon bar flavor, until I realized I had put graham cracker crumbs on the pineapple instead of my precious lemon bar. Ha!
5. Have you watched Secrets of the Manor House on PBS? It's my new favorite mini series. They are basically giving you a really good tour of 5 of the big houses in England, sadly I wish it were more than 5 and that they would leave all the episodes up on the PBS app.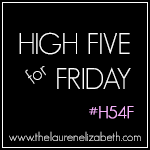 What were your favorite moments from the week?