It's officially our last Friday before we move. Next week all five of my pics will probably pertain to moving!
1. In an effort to pack everything I can I've been drinking smoothies like a mad woman. I also made soup, but that Williams Sonoma Lime Soup doesn't taste quite as good with regular chicken as it does with rotisserie chicken. Anyway, my recent smoothie obsession is 1/2 c Simply Orange Juice, 1/2 c almond milk, 1 tsp flaxseed mill, 1/2 scoop vanilla protein powder, frozen banana, and 1/2 frozen mango.
2. This week we made a run to the Salvation Army to drop off stuff, Jeremy turned it into a book hunt. I was against the idea until I came across the updated Abs Diet. I was obsessed with the first edition 10 years ago, it is what changed my entire eating lifestyle and started the clean eating obsession. I can't wait to have time to reread the updated version and refresh my memory!
3. Packing. Oh packing. This week has been a big packing week...and Sunday is going to be the Superbowl of packing days.
4. Explain to me how Rudy can rationalize having an accident, granted he is only 7 months and bladdar control is still shaky when we excite him, but he is too smart to still pee places. For instance, last night he was sitting in his dog bed chewing a bone with this bear in the crate with him. He was completely across the room and I asked him to bring me the bear. Just to see if he would. Well the little sucker put down his bone and picked up the bear and brought it right to me. You may be a bad puppy Rudy and chew us out of house and home, but you are far to smart.
5. The heat, oh the Louisiana heat. I was dying for ice cream yesterday and Jeremy wanted coffee, so we compromised. I got the Cookie Crumble Frap, it was good but I think I'll stick to the Caramel when I get one. Which by the way I realized after ordering it that I haven't had a frap since finals week my freshmen year of college... I was on my way to my A & P final. So um, 9 years.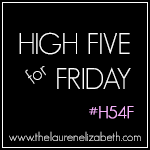 This upcoming Wednesday I will be starting a new linky called Insta-Video Wednesday. With the new awesome video feature on Instagram I thought it would be super fun to either share our videos in a blog post and link up or you can just link up your Instagram account! So stay tuned and be sure and link up on Wednesday.
Read More